Pine Meadow Veterinary Clinic carries multiple over-the-counter pet care products available for sale at the clinic. These products do not require a prescription or doctor visit. Please visit our online pharmacy Vetsource. These and many other products can be shipped directly to your home through Vetsource.
Grooming Supplies:
Shampoos:
EFA Sunripened Raspberry – contains essential fatty acids for a shiny healthy coat
Pearlybrite – a whitening and brightening shampoo for white or light colored pets
Sugar Cookie – a tearless shampoo for general bathing
Dermal Soothe – an anti-itch shampoo with an essence of almonds
Body Sprays:
Sweet pea/Vanilla
Sunripened Raspberry
Groom Aid – fresh scent, non-greasy, shine and helps detangle
Seasonal – Pumpkin pie and Spiced Apple
Ear Care:
Cleaning and & Drying Flush

Eliminate moisture and odor from the ears. Surfactants break up and remove waxy discharges. Use after every bath and swim session to minimize build up and ear infections.
Available in a variety of pleasant scents:

Eucalyptus
Cucumber Melon
Sweet Pea/Vanilla
Cherry Blossom

Medicated Flush

Pharmaseb
Chlorhexidine

Both are antiseptic flushes with antibacterial and anti-yeast activity. Help prevent and treat ear infections. Especially useful for reoccurring ear problems. For general cleaning or moisture removal, see our non-medicated flushes above.
Eye Care: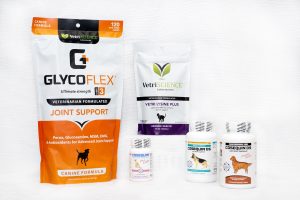 Tear Stain Supplement – a natural oral supplement that decreases the redish brown discoloration commonly seen
Sterile eye wash – safely clean eyes and around eyes, removes dirt or foreign material
Pet Facial Wipes – pre-moisturized towelettes
Artificial Tears – protect pets' eyes during baths or help treat dry eyes
Vitamins and Joint Supplements:
Ellevet Mobility Oil (Hemp CBD Oil) – joint supplement
Pet Form Tablets – chewable multivitamin
Cosequin DS Chewables and Capsules – protect joint cartilage with glucosamine and chondroitin.
Catalyst Chews – omega fatty acid supplement in a palatable non-allergenic soft chew
AllerG Liquid Pump – High potency and purity fish oil in a convenient pump
Denamarin – protects and heals liver tissue. Combines Sam-E and milk thistle for natural liver health
Pet Tinic – iron and Vitamin B supplement in a flavorful liquid
Vetri-Science Probiotics – Not all probiotics are equal. High numbers of beneficial bacteria and a variety of bacterial strains make this supplement ideal for the treatment and prevention of multiple gastrointestinal ailments. May also be useful to prevent antibiotic induced gastrointestinal upset.
Crananidin – cranberry extract supplement for urinary tract health
Fleas/Ticks/Mosquitos:
Bravecto – 3 month flea and tick prevention
Proheart 6 Injectable – 6 month heartworm prevention
Nexgard – chewable monthly flea and tick prevention
Heartgard Plus – chewable monthly heartworm and intestinal parasite prevention
Frontline Spray – flea control that can be sprayed and rubbed on pet. Useful for tick attachment sites
Vetri-repel spray – repels mosquitoes and other insects
Vectra for Small Dogs – topical monthly flea control
Revolution for Cats – topical monthly flea, heartworm, intestinal parasite and ear mite prevention
Catego – topical monthly flea control for cats
Comfortis for cats and small dogs- chewable monthly flea control
Knockout ES Area Treatment – powerful treatment for flea control in your home. DO NOT USE on pets. Follow all directions carefully.
Flea combs
Miscellaneous Products: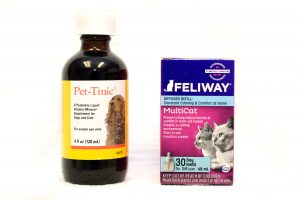 Forbid powder and Coproban Chews – for coprophagic behavior
Nail clippers
Pill pockets – to hide your pet's medications in a tasty treat
Vetrap – for bandaging
Kwik stop and Clotisol
Antiseptic oral rinse
Toothpaste – Enzadent and CET brands
Safe Clip – for insulin needles without the bulk of a Sharps Box
Oravet Chews – daily chew for your pet's dental health