Pine Meadow Veterinary Clinic offers digital radiography to its patients. By providing digital radiography, our veterinary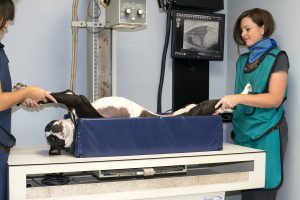 professionals can save time on taking x-rays, utilize telemedicine with veterinary radiology specialists, and with enhanced image quality, improve patient care.
Digital Radiology Services
Digital x-ray images are much clearer than the older methods of film. They can also be taken within a few seconds and modified on a computer screen making the process much more efficient than having to develop film. Because the images are so clear, our veterinarians can more easily diagnose issues that may be causing your pet to feel bad.
Ultrasound Services
In addition to digital radiography, we can offer ultrasound services through a local traveling veterinary ultrasonagrapher. Usually, this procedure does not require sedation and is considered an outpatient procedure.