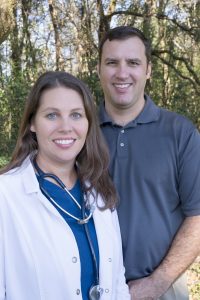 Drs. Coy and Stafford
Dr. Coy and Dr. Stafford grew up in southern Louisiana. They both graduated from Louisiana State University School of Veterinary Medicine in 1999. GEAUX TIGERS! After graduation, they worked in a south Florida practice until purchasing Pine Meadow Vet Clinic in 2005. Both doctors enjoy Pensacola. Dr. Coy is an avid fisherman and also enjoys scuba diving and wakeboarding. Dr. Stafford loves the beautiful beaches and the southern hospitality that Pensacola offers. They have several dogs, cats, and even a Ball Python – all of which were rescue pets.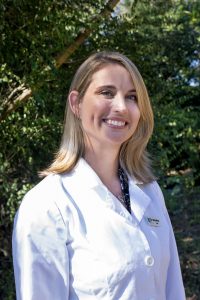 Dr. Sabrina Hoffman, D.V.M.
Dr. Sabrina Hoffman joined us October 12, 2009. She is a graduate of Mississippi State College of Veterinary Medicine and attended the University of Florida for her undergraduate work. Dr. Hoffman has done a lot of work with rescue groups and brings a generous amount of surgical experience to the Pine Meadow team. She has a beautiful Golden Retriever named Molly and an orange tabby named C.J.
Dr. Zach Westrick
Dr. Westrick grew up in Fort Wayne, IN. He attended Wabash College in Crawfordsville, IN where he graduated with a Bachelor of Arts and majored in Biology. For veterinary school, Dr. Westrick attended the University of Illinois and graduated in May 2014. After graduating, he participated in a small animal rotating internship at IndyVet Emergency and Specialty Hospital in Indianapolis, Indiana. He remained at IndyVet an additional year as an emergency veterinarian. In June of 2016, he moved to Pensacola to be closer to family. His main interest in veterinary medicine is ophthalmology. With his free time, he tries to keep his two dogs (Margo and Jack) out of trouble. Dr. Westrick also enjoys being outdoors, running, and two-stepping.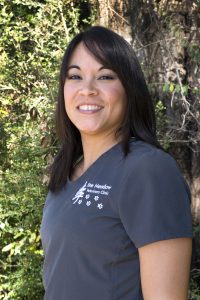 Jenafer, Office Manager, C.V.P.M.
Jenafer has been with Pine Meadow Veterinary Clinic since 2004, starting as a part time kennel technician while pursuing her undergraduate degree at the University of West Florida. She worked her way to a full time managerial position, received her master's degree and in 2015, and became a Certified Veterinary Practice Manager. She has one dog, Smooches, a shelter rescue, and four cats Rugrat, Luna, Neo (all rescues) and Socks.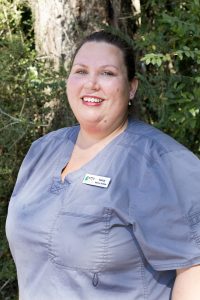 Nancy, Veterinary Technician
Nancy has been an integral part of the Pine Meadow staff since 2007.  She assists the doctors with regular appointments as well as surgery.  Nancy further advanced in her position in 2013 as Assistant Personnel Manager. Her love for animals and excellent work ethic make her an asset to our team.  A native of Pensacola, when she's not working, she enjoys fishing, hunting, camping, and going to church.  Nancy is kept company by 2 cats, Jethro and Cletus, which were both rescued and nursed back to health at PMVC; and you may meet her little Chihuahua, Hot Mama, running around the clinic eager to greet people.
Tina, Receptionist
Tina has been with Pine Meadow since 2007. She will likely be the first one to greet you with a smile and hello! She moved from the Baltimore/Washington D.C. where she operated a bed and breakfast and worked in several restaurants after getting an Associate of Arts degree in Professional Cooking. However, her love of animals led her to a position with the Maryland Society for the Prevention of Cruelty to Animals (SPCA) where she acted as a liaison between medical, adoption and behavior managers. She and her husband live with five cats; Ed Munky, Loki, Miho, Unagi, and Rokusan. Tina and her husband are both artists; she designed the PMVC logo.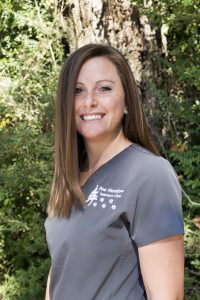 Tabatha, Veterinary Technician
Tabatha has been with PMVC since 2009 and attended Chipola College for the Pre-Vet Program.  She has 3 dogs: Socks – a rescued Pit Mix, Lilly – a Weimaraner, and Suzie – a Blue Heeler, a turtle and an assortment of fish.  She has 2 young children that keep her very busy outside of work.  She loves the outdoors, hanging on the beach or at the river, movie night and being with her family and friends.  Tabatha is also a proud tribal member of the Poarch Creek Indians.
Holly, Veterinary Technician
Holly came to PMVC in February of 2010, then expanded her experience to surgical technician in 2012. She is a Pensacola local who attended Tate High School and enjoys going to the beach and attending local concerts. She has a little Chihuahua named Peetree who goes everywhere she does. Holly is partial to the smooshed-faced cats that visit our practice. You may catch her sneaking a quick snuggle with your kitty if she's not your assigned technician.

Amanda, Veterinary Technician
Amanda was born and raised in Monroe, Louisiana and graduated from the University of Louisiana in 2007 with a BS in Agribusiness, and emphasis in Pre-Vet, minor in Animal Science, Agriculture Economics and Equine Science. Obviously, she has a passion for animals! She moved to Pensacola in 2007 to be closer to family, and has returned to school to become a certified veterinary technician. She has been with PMVC since 2010 and is the in house Weight Coach. Her pets include Ethel an English Bulldog, Ty the Boxer/Bull Mastiff mix, Tator a Yorkie, 2 horses named Huck Finn and Indian Copper, an Eclectus Parrot named Scarlet, Rio and Lexi her Amazon parrots, and Funny Bunny and Willow, her Lion Head Rabbits.
Kelli, Veterinary Technician
Kelli has been at Pine Meadow Veterinary Clinic for almost 2 years, but has been a veterinary technician in the Pensacola area for more than 10 years. She has 2 rescue dogs and 3 cats and in her free time, enjoys outdoor activities and cooking.
Jennifer, Receptionist
Jennifer has been with Pine Meadow Veterinary Clinic since 2015. She came to the Pensacola area from California and has over 8 years of experience in the veterinary industry. She has two dogs, Buddha, a puggle, and Harvey, an English Bulldog, one cat, Hemingway, who has extra toes, and a snake named Caesar.
Cindy, Receptionist
Cindy has been working in the veterinary industry since 1993. She joined the PMVC team in 2017 and brings lots of laughs to the environment. She not only has dogs and cats, but also has winning chickens and turkeys that go to their own shows!
Jennifer, Veterinary Technician/Receptionist
Jen was born and raised in Pensacola, FL. She worked at Pine Meadow Veterinary Clinic for Dr. Roberts and Dr. Knight. After getting married, she moved to Tennessee to start a family. She recently moved back so her kids could be closer to their grandparents. Jen has many years of work experience as a veterinary technician. She has degrees in Zoo Animal Technology, Pre-professional Biology and Elephant Husbandry. Outside of work, Jen enjoys spending time with her two children and Bluetick Coonhound, Merle Haggard.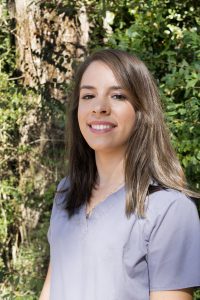 Sam, Veterinary Assistant
Sam joined Pine Meadow in August of 2016. She is currently working towards her Veterinary Assistant Certification through the Tate High School program. She plans to become a certified veterinary technician after graduating high school. Sam has three cats- Sumo, Stella, and Athena- as well as one dog – a ten year old Chihuahua named Indi. When she's not at the clinic, she likes to spend her free time painting and going swing dancing. She is also inspiring her younger sister to pursue a future in the veterinary field.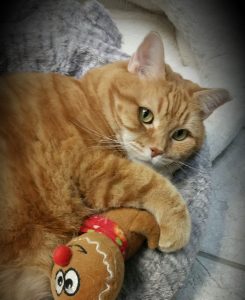 Velveeta (House cat and blood pressure reducer)
"Velveeta" came to PMVC through the Friends of the Escambia County Animal Shelter. When we were shown her picture it was love at first sight. We knew with her being 15 years old and heavily overweight, her chances of being adopted were slim. We took her in and she has made herself an integral part of our veterinary team. She is our in house entertainment and stress relief. Velveeta has lost 4 pounds since living with us thanks to the weight loss program created by our clinic weight coach, Amanda. You may see "Veeta" aka "V.V.", waddling around when you visit the practice, especially if it's close to dinner time.