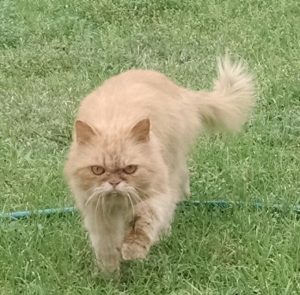 Every year, veterinarians give away tens of thousands of dollars to provide free or low cost care to abandoned pets or to pets whose owners are in financial crisis. The Veterinary Care Foundation , a 501(3)(c) organization, enables us to have a an account that accepts tax deductible donations that can be used for these pets in need. Donations can be made online, through mail or the practice. Please visit this site to learn more about the Veterinary Care Foundation or to make a donation. Once in the site, just search for Pine Meadow Veterinary Clinic.
Compassion Fund Success Story!
Douglas was a male orange cat who came to our practice because he appeared to be having a seizure that had lasted for two hours. His temperature was extremely elevated and he was in need of hydration. Douglas' owner was prepared for euthanasia, but upon examination, the veterinarian determined that his "seizing" was actually tremoring. This can be caused by having a chemical called pyrethrin, often found in canine flea medicine, applied to a cat. This can happen if a cat licks or comes into very close contact with the chemical. The pyrethrins in the medication cause a severe reaction, leading to muscle tremors, seizing, hypersalivation, depression, vomiting, anorexia and even death. Pyrethrin toxicity can be treated and we wanted to give Douglas a fighting chance. The treatment for Douglas required overnight hospitalization, intravenous fluids, and intravenous medications. The owner could only afford a portion of the treatment, so we offered to cover the remainder of the costs. Thanks to the generous donations to our Compassion Fund, Douglas was given the opportunity to recover fully and return home after several days of treatment.
Pine Meadow Veterinary Clinic also donates to local and national charities. We have performed a dog wash that helped us raise funds for the Greater New Orleans Foundation after the oil spill in 2010, American Red Cross when the tornadoes ravaged Tuscaloosa in 2011, the Wounded Warrior Project in 2012 and St. Jude's Children Hospital in 2013. We have donated to the various programs at local schools and sports organizations, such as North Exchange Park and Tate High School. We welcome volunteers from Tate High School's veterinary assistant program as well. We have donated funds to the Jimmy V Foundation (a cancer research organization), Council on Aging, the Guide Dogs of America, and free mammography clinics at Baptist Hospital. Each September, we collect books for the local ECARE program. During the month of December, we donate a wreath to the ARC Gateway Wreath Gala.
We will be hosting our 3rd Annual Paws for Veterans 5k on November 10, 2018 at Ashton Brosnaham Park! Click here to see the details. Last year, we raised $3200 for this wonderful organization. Paws for Veterans is a non-profit organization that rescues shelter dogs and trains them to rehabilitate veterans who suffer from conditions, such as PTSD, after their service.