Going on vacation? Our boarding kennels provide plenty of room for your pets to stretch out and move around.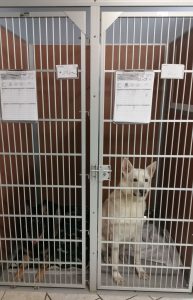 All pets are on a twice a day feeding schedule. We do not charge any additional fees for medicating pets that may be on long term medications, such as thyroid and diabetic medications.
To help ease your mind about your pet's comfort while away, the temperature in our kennel is monitored 24 hours a day by Panhandle Alarm Co. to ensure your pet's comfort and safety.
Board Your Canine
Each dog is walked in our kennel yard three times a day which also gives them some play time. We even have a doggie pool for the water lovers!
Board Your Feline
Our cat room is separate from the dog kennel to provide a less stressful atmosphere for them. We also utilize pheromones, boxes and toys to aid in comforting them during their stay.
Boarding Services
We use stainless steel bowls that can be easily sanitized and wash all pet beds daily. All activities of each pet are recorded daily to ensure that each one is comfortable and continuing normal habits as if at home. We can always send you an update and cute photo using social media, e-mail or text messaging. Click here to request a boarding reservation. Access our boarding forms here.